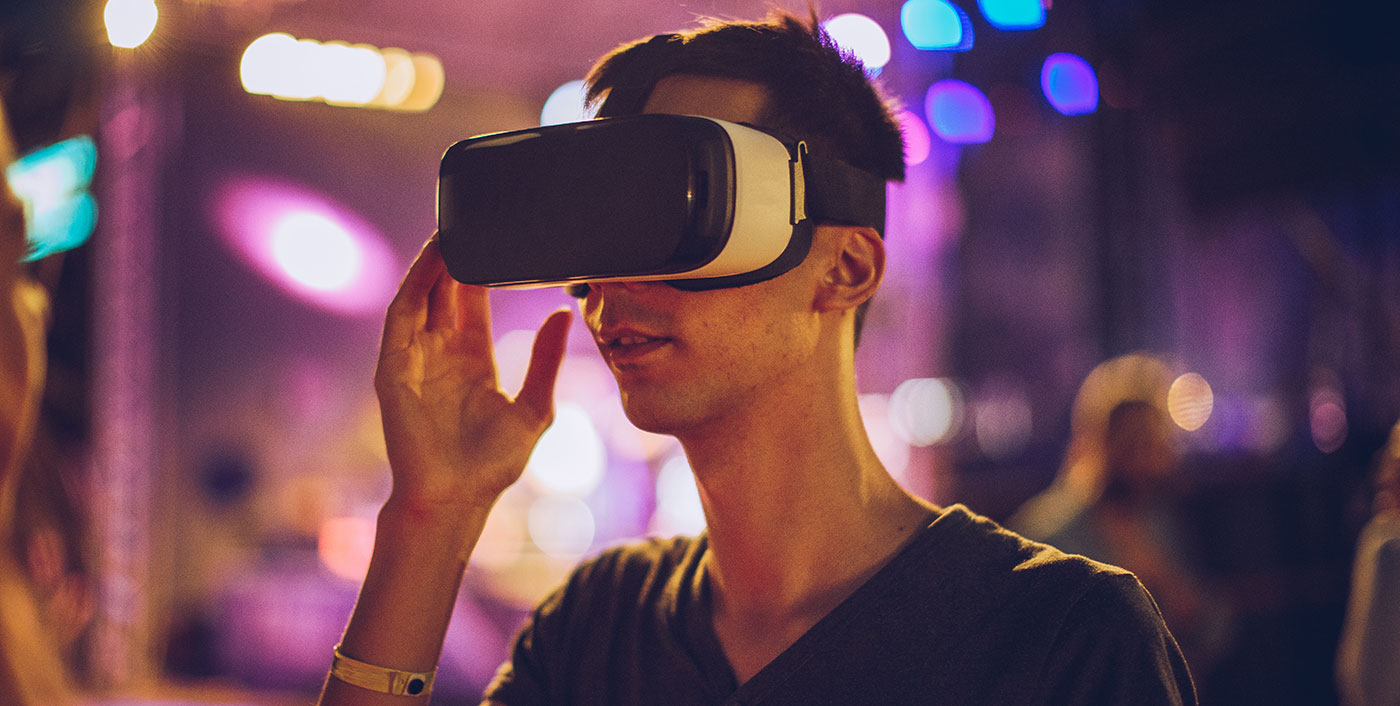 How Immersive Marketing Experiences Can Captivate Event Audiences
When storytelling comes to life, we call it immersive marketing. When done right, immersive marketing transforms an ordinary event into an unforgettable experience and makes engaging with a brand feel natural. At MC², we believe successful immersive marketing fosters greater brand engagement through a deeper and more dynamic experience.
But what does it mean to be truly immersive? According to Susan Bonds, CEO of 42 Entertainment, the most powerful immersive marketing experiences are ones that build stories which surround and engage you through the use of technology. Today, immersive marketing has become less of a novelty and is playing a more integral role in broader brand marketing campaigns.
When used well, immersive tech can be a powerful tool for event marketers in any industry.
The Potential of Immersive Marketing Technology
Immersive marketing has recently gained popularity because of its strong appeal to younger consumers, especially coveted millennials who have been raised to expect interconnectivity everywhere they look. Still, the potential audience for immersive event marketing is broader than it seems. For example, gestural technology, which uses our natural "language" to operate devices, offers an intuitive form of immersiveness that has demonstrated appeal to an older, less tech-savvy crowd.
In the past, the inaccessibility, rudimentary nature, and high cost have discouraged event marketers from incorporating immersive marketing into their events while modern challenges like education and bias toward the familiar continue to cause hesitation. Regardless, refusing to integrate immersive marketing into your brand's events could leave you behind the curve. Modern immersive marketing technology now offers a wider variety of compelling, realistic, and relatively affordable options that deliver deeper and more realistic experiences to every generation.
Here's a quick run-down of some of today's most popular immersive marketing technologies and how they can be incorporated into live events.
3D Mapping Projections: The Wow Factor
3D mapping projections use different surfaces for illumination and projection of 3D images. Savvy event marketers are projecting 3D images on the facades of buildings, water, and more. Due to their size and scope, they provide the ability to create a large-scale, dramatic impact at lower costs than ever before.
Rob Delfgaauw, CEO of NuFormer, a leading developer of 3D mapping projections elaborates: "Until recently, 3D mapping projection campaigns typically ran no longer than 5-10 minutes. Now, some 3D mapping campaigns are running for an entire day or week, like animated wallpaper."
So why haven't you seen it more often? The main barrier is a simple lack of understanding by event planners and marketers of the technology. "Many people aren't even aware of its existence," Delfgaauw says. "And only a relatively very small number of people have actually seen them in person."
As a result, many event planners and marketers have been unable or unwilling to convey the benefits and value of the technology to decision-makers. Still, the potential for those willing to pioneer this impressive technology is huge.
Augmented Reality: Simulating the Brand Benefits
Augmented reality can give event attendees a taste of your brand's value. For example, to give visitors at the Detroit Auto Show a real sense of how Michelin tires performed in different weather and road conditions, MC² developed a tire simulator called "Be the Tire."
Using augmented reality, attendees got a real feel for the tire's performance and value on the road. Visitors to the Michelin's exhibit stood on a platform in front of screens showing images of the tire, which MC² shot from cameras mounted on the fenders of a car in all kinds of weather and road conditions.
Through the use of tactile transducers embedded in the platform and within a hand-level dashboard, the simulator conveyed the road's vibrations to the visitor's body, enabling attendees to feel the texture of the tire on the road. The realism was astounding.
The simulator experience proved highly successful from a number of perspectives. It not only drove significant social media exposure from attendees, but it also helped generate great press attention.
Virtual and Augmented Reality: A Dynamic Duo
Immersive technologies are increasingly being used in combination with each other. Gestural technology and augmented realities are more commonly blended than in the past, offering greater versatility in user interfaces.
Jason Latta, founder of Amazing Robot & Sons, an event marketing firm specializing in virtual reality and augmented reality, sees strong potential for virtual and augmented reality within immersive event experiences. He highlights the combination's ability to generate "excitement and passion about brands," as well as a "realism and memorability" that takes immersive experiences to the next level. As an example, Latta characterizes Nintendo's Wii system and Microsoft's Kinect as "extensions of VR and AR," noting that "Kinect is built into Microsoft's HoloLens headset."
These newer forms of immersive technology provide rich and multilayered experiences. This has expanded the kinds of content offered and has made them more interactive, generating greater brand engagement.

Ambient Interactivity: Mixing the Physical with the Digital
Another powerful combination is born when you combine physical and digital experiences in order to create a new form of immersive technology called ambient interactivity. Ambient interactivity typically refers to interactive forms built into or embedded within physical environments, such as interactive tables, windows, and walls. These forms afford a more natural, user-friendly interactivity that is well suited to event marketing.
In 2015, MC² developed a 360-degree "immersive room" called "The Anomaly" for Nokia Bell Labs. The 24-foot by 18-foot room incorporated a 4K video wall and three other smart glass walls with opaque-to-transparent capabilities. Iconic moving images of Alexander Graham Bell and other Nobel Prize winners were programmed into the smart walls of the room's exterior. A translucent onyx touchstone functioned as a unique trackpad to facilitate interaction on the 24-foot 4K video wall, which also had touchscreen capability.
Designed primarily as a research and future concept presentation platform to enable information sharing within the organization, the room's interactive capability is a good example of ambient interactivity. This exhibit demonstrated how technology can deliver content and experiences transparently and automatically without the need for direct human activation.

Continuing the Experience on Mobile and Social
The pervasiveness of mobile has also helped fuel greater use of immersive media in events, especially augmented reality. From Latta's perspective, VR equipment isn't really necessary to access VR event experiences — users can "gain a window into" those experiences simply using their smartphones.
In fact, mobile has emerged as a key bridge linking physical and digital experiences. As pressure mounts for event marketers and planners to develop event experiences, that attendees "can't get anywhere else," amplification of the immersive experiences on social media is more critical than ever.
Your success as an event marketer is largely dependent on how well your attendees communicate their experiences via social media. The wow factor and emotional elements achieved through successful immersive experiences are vital. Attendees have the ability to convey the uniqueness of your event to a larger external audience, thereby increasing your reach tenfold.

The Bottom Line
As immersive event marketing continues to grow in importance and scope, many untapped opportunities still exist . The field is becoming more economically viable, compelling, and versatile. For example, event attendees may have increasing opportunities to interact with live actors using immersive media at trade shows and other events. These experiences will increasingly allow attendees to have shared experiences with other attendees at the same location or anywhere else watching in the world.
The question isn't if you should start understanding the role immersive media plays into your strategy. It's how.
If you're interested in incorporating immersive technology into your next live event, we'd love to help you get started with your next immersive brand experience. Let's talk!