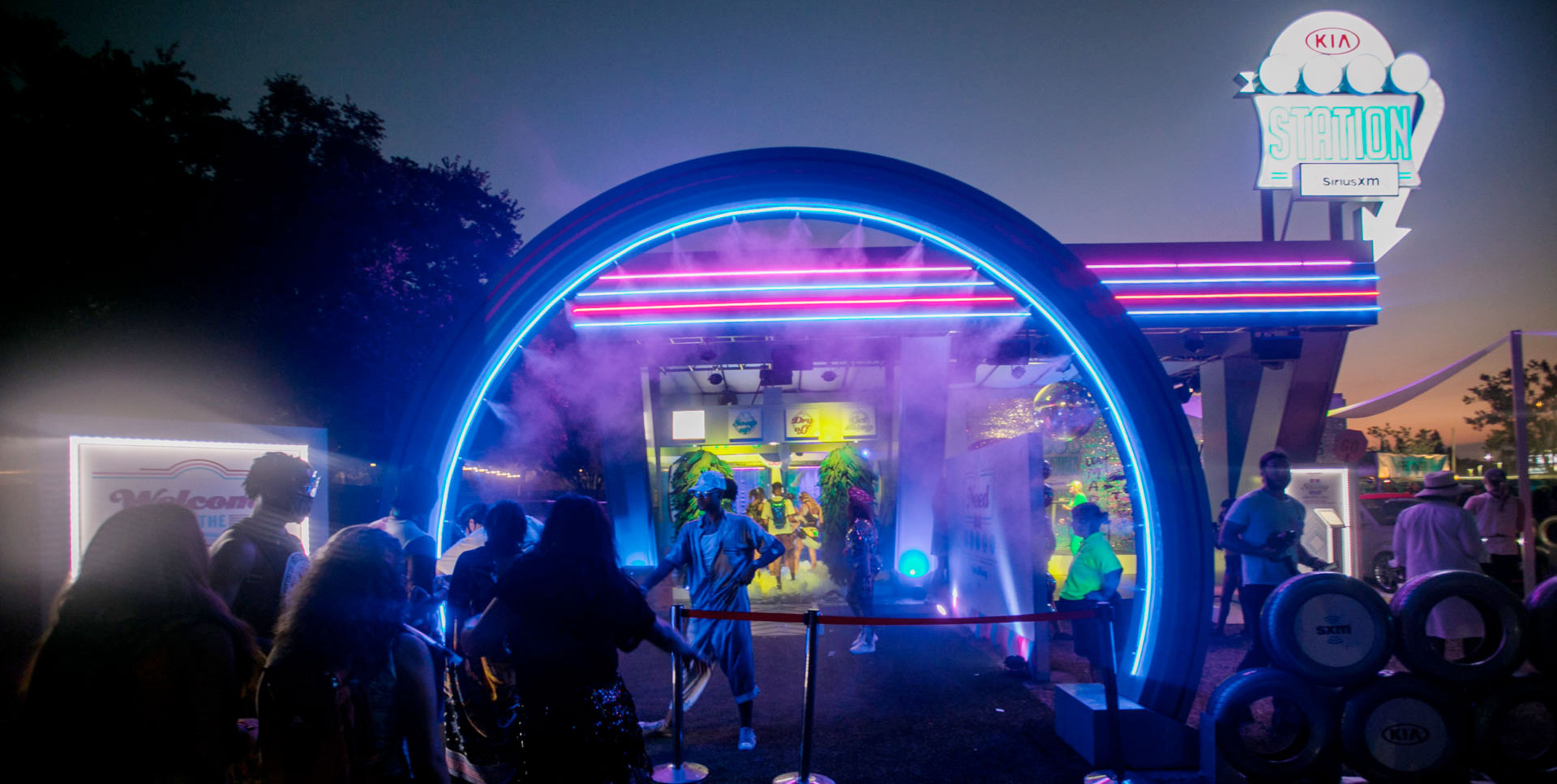 5 Wild-and-Crazy Experiential Marketing Examples
Trying to create an event that's more than just an event? These experiential marketing examples from all over the world are out-of-the-box, over-the-top, and totally inspirational. As brands continue to push the limits of what's expected, only the most original and creative activations can break through the noise. 
Check out these 5 examples of wild-and-crazy experiential marketing events from the past five years and let us know when you're ready to collaborate on an outrageous event of your own.
Kia's Human Car Wash
Music festivals are a lot of things: fun, loud, exciting, exhausting…but never "clean." When MC² worked with Kia Soul to create a stand-out experiential marketing activation at the Sunset Music Festival, they decided to give the sweaty attendees a way to feel refreshed after a long hot day of dancing to EDM music.
In order to connect the one-of-a-kind Kia Soul to the big idea, MC² & Kia built a "walk-through car wash" for humans. 
Complete with pumping music (courtesy of Sirius XM), foam cannons, spinning brushes, drying fans, and a luxurious "Shine Room," packed with makeover products and mirrors, the walk-through wash literally altered the way people felt and looked. An emotional connection like this leads to powerful brand associations that last.
Nutella's Loud-Mouthed Billboard
What's better than eating chocolate for breakfast? Getting a little morning motivation from a talking can of Nutella. In a wildly unusual and creative activation, Nutella decided to bring its brand to life and connect with fans in Amsterdam through an animated Nutella can "puppet" voiced in real-time by an offsite comedian.
Unsuspecting commuters on their way to work were shocked to receive surprisingly genuine compliments from a talking can of chocolate: "Hey guys, I love your hats!" The puzzled city dwellers couldn't help but stop, laugh, and interact with the seemingly sentient cartoon. At the end of the interaction, people were surprised once again when a friendly brand rep chased them down and gave them, yes you guessed it, a delicious can of Nutella to enjoy at work. 
Weird? Yes. Memorable? Absolutely! If you can find a way to give your brand a personality and voice out in the real world, you can connect with your audience on a whole new level– and have a lot of fun doing it.
Nokia Bell Lab's Raw Space Echoless Chamber
Nokia Bell Labs' innovative technology transformed the passive music streaming experience into an active, unforgettable feeling. This groundbreaking activation was called Raw Space, the world's first real-time, 360-degree music streaming experience. Using augmented reality within the Nokia Bell Labs completely silent an-echoic chamber, MC² built a fully-immersive, multi-sensory streaming room that connected the audience to British singer Beatie Wolfe's new album in a way that neither digital music nor live concerts had done before.
Introducing new technology, or utilizing existing VR or AR in an unexpected way can spark a powerful emotional reaction from your audience. 
Topshop's Twitter-Powered Vending Machine
We've seen crazy social vending machines that accept likes and shares as currency for soda, candy, even tampons…but Topshop's Tweet-powered Playland Pop Up activation outside of its flagship store in London might go down in history as the most over-the-top, whimsical iteration of this popular trend.
Featuring nostalgic arcade game characters like Ms. PacMan and Zoltar, Topshop allowed "players" to grab colorful plastic balls with a giant claw crane for a larger-than-life shopping experience that left them with an awesome story and some very fashionable swag.
The Body Shop's Large-Scale Art Installation
Experiential marketing activations don't necessarily need to be zany in order to be larger-than-life. To announce their partnership with Plastics for Change, The Body Shop commissioned a gigantic portrait of a female waste-picker made from 1,500 recycled pieces of plastic that were collected by people like her in Bengaluru, India. This huge installation literally put a human face to the overwhelming problem of plastic waste and shined a much-needed light on consumer waste and irresponsible corporate practices. 
In this striking activation, the sheer size and scale of the artwork communicated the urgent messaging in an unforgettable way. The Body Shop, which is committed to finding sustainable plastic solutions, was the right company to send this message. If you're looking for an impactful way to express similarly green initiatives or charitable efforts, partnering with an artist who shares your values can supercharge your efforts and create an emotional connection between your brand and audience that can last a lifetime. 
Here's some more info on how to launch a successful experiential marketing campaign. If you're interested in working with a partner who can help you take your idea to the next level, drop us a line and we'll start collaborating.